You could say I'm a bit obsessed with water purification options. Being a prepper, I see the need for a variety of water purification options. Just recently, Houston had a boil water notice because of a power outage. And we can't forget the water crisis in Flint. And all of the other dozens of times a year cities are under boil water notice.
It happens more than people realize, even if it's just for a day.
Water is life.
I store bottled water, but bottled water will only last so long and there's only so much space. The more water purification options we have available, the better chances we have to thrive in any situation.
Let's not forget that while hiking and camping, it's essential to have water purification on hand.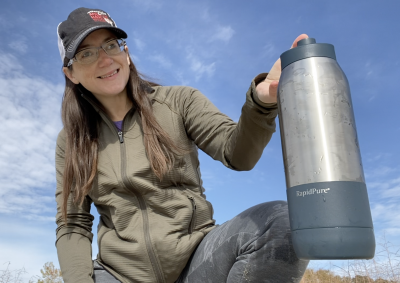 Pros:
Water filter is inside the bottle, so all you do is open lid, fill bottle, place lid back on (with filter attached to the straw on the inside) then drink! That easy.
The bottle is stainless steel and insulated
My kids can drink from it. That's a big plus, because kids are incapable of pulling the water through most water filter straws, but they found this extremely easy to do.
The water filter has a lifespan of 75 gallons.
Flip top lid can be used on just about any wide-mouth bottle, so you don't have to use it with just that one insulated bottle that it comes with.
Only weighs 18 oz.
No squeezing or waiting, just suck through the straw and it purifies through the filter as you pull it up and through.
Water tastes great.
Replaceable filter.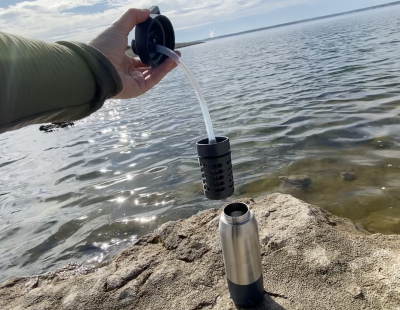 Cons:
Can't seem to find a micron level anywhere on their website. It says it gets rid of 99% of viruses, bacteria, and parasites, but I want to know the micron level.
Though it does only weigh 18oz, this would be a bit too heavy and big to carry for backpacking trips. Camping? Yes. RVing? Yes. Emergency preparedness? Yes. But not really made for backpacking unless you prioritize the weight.
Filter doesn't have a very long lifespan. Though 75 gallons is a lot, If you're drinking a gallon a day, that's only 75 days worth. However, you could absolutely keep a few filters on hand as spares.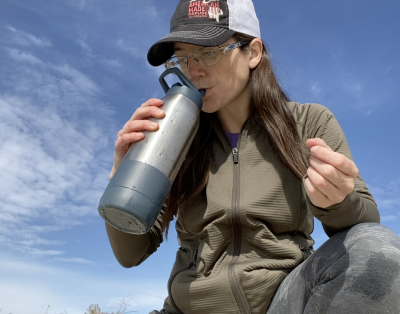 Overall, I'm really impressed with this filter. It is a bit bigger and heavier than some others, but I don't mind that, personally. It's not for every scenario and that's perfectly fine. It has plenty of applications and the stainless steel bottle alone is worth the investment.
Be aware, it's double-walled (insulated), so you cannot cook or boil water in this. Again, I'm ok with that.
When it comes to me and my family, I prioritize water, so the more water I can carry, have around and purify, the happier we'll all be.
Take a look at the RapidPure Insulated Water Purification Bottle for just $66. Add it to your water purification collection and purify water on the go quickly and effortlessly!