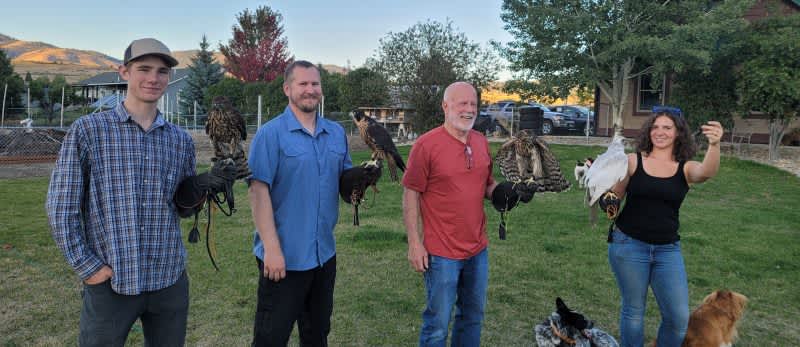 Step into Falconry
Falconry is a brotherhood practiced worldwide and for millenia.  Yet today there are less than 4,000 falconers in the United States, most of whom are starting to age out of the sport.  That's understandable since the  entrance to falconry is little known and even less publicized.  But for those who can decipher the regulations, what awaits is an unparalleled experience more rare than being struck by lightning.  It doesn't take much to be seduced by the idea of hunting with a raptor.  But unless you have met a falconer, knowing where to begin is near impossible. 
Consider if falconry is for you.
The undeniable "cool factor" is strong.  For myself, I am still in awe every time my
falcon steps to my outstretched glove voluntarily.  But the care of a raptor is a specialized knowledge that requires a daily commitment.  The demand of her care and the investment of time into training her is significant.  A special care plan is required to be administered by another falconer if you go on vacation and don't bring your bird.  During the hunting season, a bird needs to be allowed to hunt multiple times a week.  Preparing whole food (read: cutting up fresh, small game) is a necessity.  As you would expect, the cost associated with falconry is immense.  If you think you are going to have the coolest pet on the block, then falconry is not for you.  
Like many trades, falconry has levels of graduation that afford you more opportunity as your progress.  Starting as an apprentice class falconer you are required to have a general or master class falconer sponsor you.  This is a very time intensive role and many falconers are hesitant to sponsor an apprentice until they have shown sufficient commitment.  During your apprenticeship they will introduce you to the care, feeding, and maintenance of your hawk or falcon known as husbandry.   Raptors have specialized care and require an educated eye to notice when something is amiss.  Due to their high metabolism, they can succumb quickly to an ailment.  They will also make the determination when you are ready for your first bird and what would be the most appropriate for your region and prey base.  Each state has a falconry or hawking association that can help connect you with a sponsor. 
Study and pass your falconry exam. 
Every state requires that an apprentice pass an exam and become licensed before they are allowed to  trap, purchase, or keep a raptor.  The California Hawking Club publishes an Apprentice Study guide that covers basics such as medical conditions and treatment, species specific considerations, proper enclosures and furniture, and handling techniques.  Each state has their own regulations that govern required equipment (called furniture) and mews.  There is a significant amount of material to cover, but keeping a raptor requires a great amount of consideration.  Check with your state fish and wildlife agency for testing details and a study guide. 
Build your mews and gather equipment.
The proper term for your bird's outside pen is a mews.  This Old English word is derived from the French meaning to change. It is where a bird was kept during its molt, when it would lose and regrow feathers.  These are usually small, simplistic buildings where birds are kept
when they are not being flown.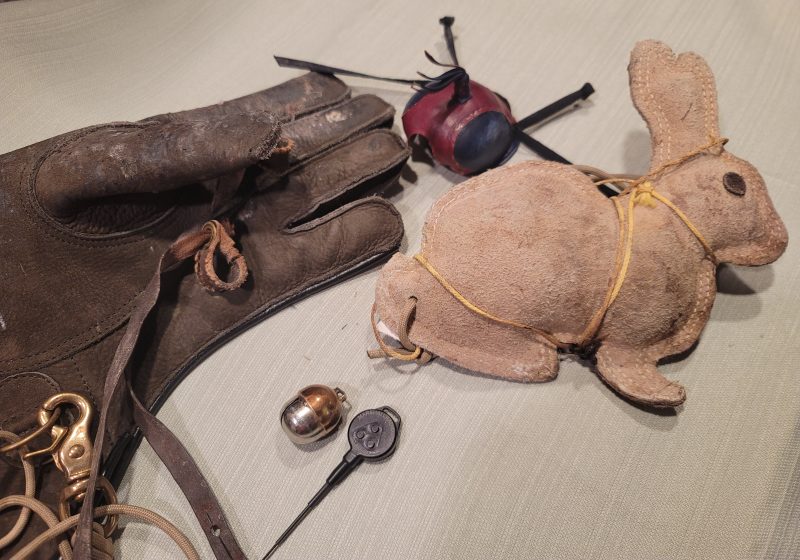 Prior to being granted your license, a game warden (or other state official) will inspect your mews and check your list of required falconry furniture.  At a minimum a scale, leash, jesses, perch, journal, hood, and glove are needed.
My peregrine, Freyja, was purchased from a breeder.  While many are surprised that you can do this, the market is small and controlled.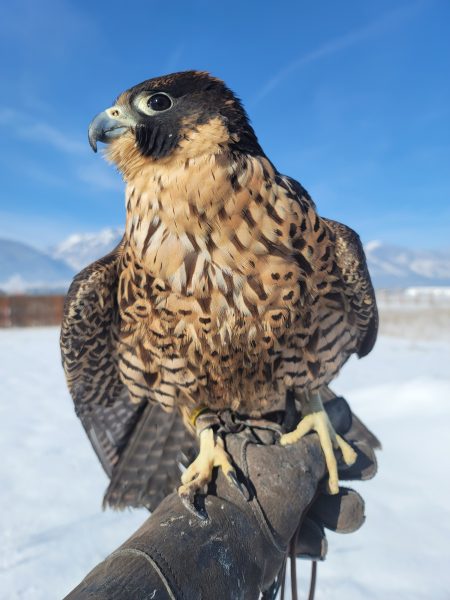 Peregrine breeders contributed a breeding project to help restore populations and in 1999 the peregrine falcon was removed from the Endangered Species List.   A bird currently in use in falconry can be transferred to you. This has the advantage of the raptor being already trained.  Most apprentices will trap their first bird from the wild.  Only passage birds (first year) are allowed to be kept.  Haggard birds (those in adult plumage) are released.  
The next step is a process called manning.  The bird is introduced to human presence and handling and tamed.  Training the bird is less about getting it to do what you want and more about harnessing its natural abilities to hunt more efficiently.  Each species is trained differently depending on flying style and its preferred prey base. 
My journey into falconry was an extension of my hunting pursuits and exploring our rich heritage.  Made antiquated by gunpowder, falconry was once the preferred method to hunt birds.  Today it takes me back to a slower and more methodical approach to hunting that requires patience as my bird develops.  But what I have found are spectacular flights and intimate demonstration of hunting in its purest form.